Calcaneus (Heel Bone) Fractures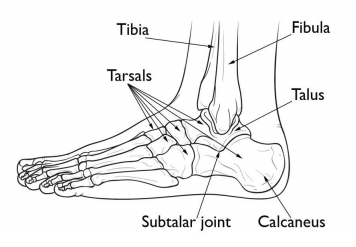 A fracture of the calcaneus, or heel bone, can be a painful and disabling injury. This type of fracture commonly occurs during a high-energy event—such as a car crash or a fall from a ladder—when the heel is crushed under the weight of the body. When this occurs, the heel can widen, shorten, and become deformed.
Calcaneus fractures can be quite severe. Treatment often involves surgery to reconstruct the normal anatomy of the heel and restore mobility so that patients can return to normal activity. But even with appropriate treatment, some fractures may result in long-term complications, such as pain, swelling, loss of motion, and arthritis.
Cause
The calcaneus is most often fractured during a:
Fall from a height
Twisting injury to the ankle
Motor vehicle collision
The severity of a fracture can vary. For example, a simple twist of the ankle may result in a single crack in the bone. The force of a head-on car collision, however, may result in the bone being shattered (comminuted fracture).
Similar fractures can result from different mechanisms. For example, if you land on your feet from a fall, your body's weight is directed downward. This drives the talus bone directly into the calcaneus. In a motor vehicle crash, the calcaneus is driven up against the talus if the heel is crushed against the floorboard. In both cases, the fracture patterns are similar. As a rule, the greater the impact, the more the calcaneus is damaged.
In a high-energy fracture, other injuries, such as fractures of the spine, hip, or other heel, can occur.
Symptoms
Patients with calcaneus fractures usually experience:
Pain
Bruising
Swelling
Heel deformity
Inability to put weight on the heel or walk
With some minor calcaneus fractures, the pain may not be enough to prevent you from walking — but you may limp. This is because your Achilles tendon acts through the calcaneus to support your body weight. If, however, your calcaneus is deformed by the injury, your muscle and tendon cannot generate enough power to support your weight. Your foot and ankle will feel unstable, and you will walk differently.
Treatment
Your doctor will consider several factors in planning your treatment, including:
The cause of your injury
Your overall health
The severity of your injury
The extent of soft tissue damage
Because most calcaneus fractures cause the bone to widen and shorten, the goal of treatment is to restore the normal anatomy of the heel. In general, patients whose normal heel anatomy is restored have better outcomes. In most cases, recreating the normal heel anatomy involves surgery. Your doctor will discuss the different treatment options with you.
Book Your Appointment Today
We welcome your questions Do you have questions regarding your own situation? Do you actually want to resolve your problem and not just temporarily cover up the pain?