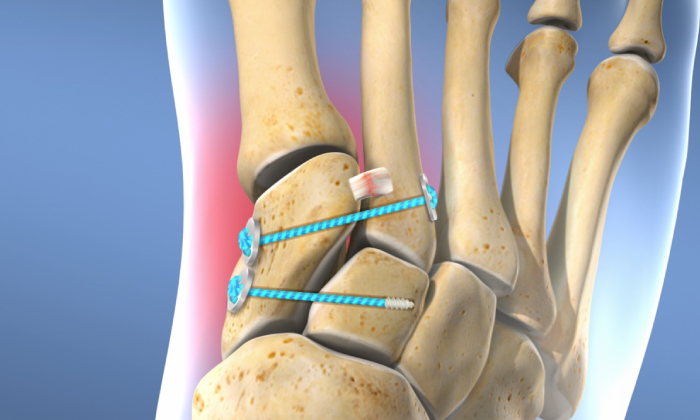 Lisfranc (Midfoot) Injury
Lisfranc (midfoot) injuries result if bones in the midfoot are broken or ligaments that support the midfoot are torn. The severity of the injury can vary from simple to complex, involving many joints and bones in the midfoot.
A Lisfranc injury is often mistaken for a simple sprain, especially if the injury is a result of a straightforward twist and fall. However, injury to the Lisfranc joint is not a simple sprain that should be simply "walked off." It is a severe injury that may take many months to heal and may require surgery to treat.
Cause
These injuries can happen with a simple twist and fall. This is a low-energy injury. It is commonly seen in football and soccer players. It is often seen when someone stumbles over the top of a foot flexed downwards.
More severe injuries occur from direct trauma, such as a fall from a height. These high-energy injuries can result in multiple fractures and dislocations of the joints.
Symptoms
The most common symptoms of Lisfranc injury include:
The top of foot may be swollen and painful.
There may be bruising on both the top and bottom of the foot. Bruising on the bottom of the foot is highly suggestive of a Lisfranc injury.
Pain that worsens with standing, walking or attempting to push off on the affected foot. The pain can be so severe that crutches may be required.
Treatment
Treatment for a Lisfranc injury depends on how severe the injury is.
Nonsurgical Treatment
If there are no fractures or dislocations in the joint and the ligaments are not completely torn, nonsurgical treatment may be all that is necessary for healing. A nonsurgical treatment plan includes wearing a non weight bearing cast or boot for 6 weeks. You must be very strict about not putting weight on your injured foot during this period. This then progresses to weightbearing in a removable cast boot or an orthotic.
Your doctor will want to follow up with you regularly and take additional x-rays to make sure your foot is healing well. In the course of follow up, if there is any evidence that the bones in the injured joint have moved, then surgery will be needed to put the bones back in place.
Surgical Treatment
Surgery is recommended for all injuries with a fracture in the joints of the midfoot or with abnormal positioning (subluxation) of the joints. The goal of surgical treatment is to realign the joints and return the broken (fractured) bone fragments to a normal position.
Internal fixation. In this procedure, the bones are positioned correctly (reduced) and held in place with plates or screws. Because the plates or screws will be placed across joints that normally have some motion, some or all of this hardware may be removed at a later date. This can vary from 3 to 5 months after surgery, and is at the surgeon's discretion.
Occasionally, the hardware may break before it is removed. This is not unusual when screws or plates span bones that have some movement. Metal can fatigue and fail under these conditions, just as a paperclip will fail if bent repeatedly. Most often surgery is successful even if some of the hardware fails.
Fusion. If the injury is severe and has damage that cannot be repaired, fusion may be recommended as the initial surgical procedure. A fusion is essentially a "welding" process. The basic idea is to fuse together the damaged bones so that they heal into a single, solid piece.
The joints in the midfoot have very little motion and mainly transfer stress to the front of the foot. Therefore, patients who do require fusion surgery can still have a relatively normal gait.
Lisfranc injuries that may require fusion include joints that cannot be repaired with screws or plates or when the ligaments are severely ruptured. The hardware will not need to be removed because the joints are fused and will not move after they heal.
Rehabilitation. After either surgery (reduction or fusion), a period of non weight bearing for 6 to 8 weeks is recommended in a cast or cast boot. Weightbearing is started while the patient is in the boot if the x-rays look appropriate after 6 to 8 weeks. The amount of weight a patient can put on their foot, as well as the distance the patient is allowed to walk, is at the surgeon's discretion.
If the patient has had internal fixation (not a fusion), impact activities, such as running and jumping, should be avoided until the hardware has been removed.
Book Your Appointment Today
We welcome your questions Do you have questions regarding your own situation? Do you actually want to resolve your problem and not just temporarily cover up the pain?