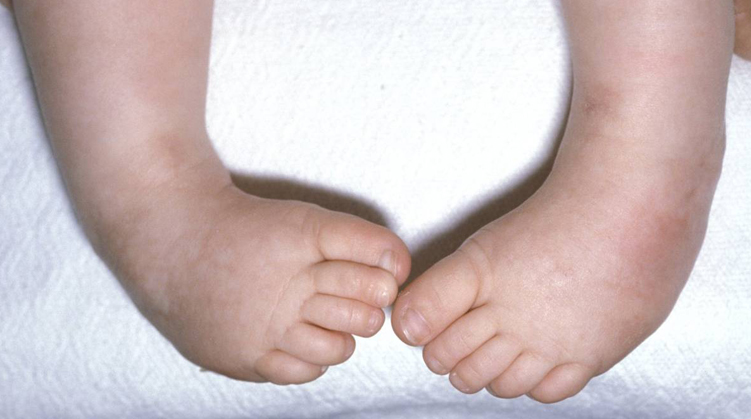 Clubfoot describes a range of foot abnormalities usually present at birth (congenital) in which your baby's foot is twisted out of shape or position. In clubfoot, the tissues connecting the muscles to the bone (tendons) are shorter than usual. Clubfoot is a fairly common birth defect and is usually an isolated problem for an otherwise healthy newborn.
Symptoms
If your child has clubfoot, here's what it might look like:
The top of the foot is usually twisted downward and inward, increasing the arch and turning the heel inward.
The foot may be turned so severely that it actually looks as if it's upside down.
The affected leg or foot may be slightly shorter.
The calf muscles in the affected leg are usually underdeveloped.
Risk factors
Family history. If either of the parents or their other children have had clubfoot, the baby is more likely to have it as well.
Congenital conditions. In some cases, clubfoot can be associated with other abnormalities of the skeleton that are present at birth (congenital), such as spina bifida, a birth defect that occurs when the spine and spinal cord don't develop or close properly.
Environment. Smoking during pregnancy can significantly increase the baby's risk of clubfoot.
Not enough amniotic fluid during pregnancy. Too little of the fluid that surrounds the baby in the womb may increase the risk of clubfoot.